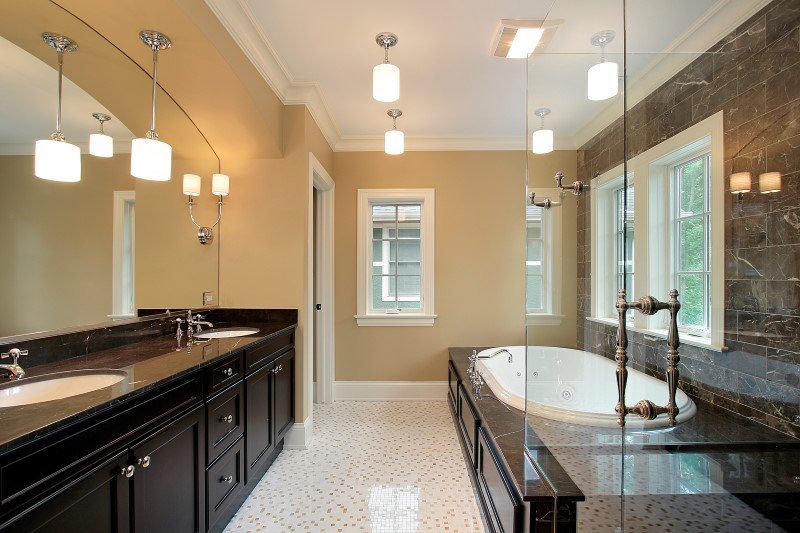 Your home is your refuge from the world. Ideally, every room in your home would be both welcoming and functional for your household's needs. However, in Western New York, many homes have aging bathrooms with design problems that keep them from reaching their full potential. If you have an outdated Western New York bathroom that is cramped, dark, or simply breaking down, a bathroom renovation project may be the perfect solution to bring added value, beauty, and functionality to your home. Whether your bathroom is in need of a major overhaul or just a more superficial update, consult with the bathroom renovation contractors at Baich Construction to discuss how to create the best possible bathroom for your household.
Replace Worn Out Equipment
Older bathrooms start to show signs of wear and tear throughout the years. Cracked tiles, rusty hinges, broken grout, water stains, and leaky faucets are all common issues in older bathrooms. Once you are faced with these problems, it is time to consider a remodel. Whether you just want to replace the broken items in question or you want to take the opportunity to upgrade your entire bathroom, the bathroom renovation contractors at Baich Construction can help you with all of your bathroom construction needs.
Open Up A Small Bathroom
If your Western New York bathroom feels too small, dark, or cramped, the remodeling contractors at Baich Construction can help with that. Even small spaces can feel much more open with the right use of color and light. Changes as simple and inexpensive as adding new, improved lighting fixtures can help a small bathroom feel larger and more welcoming. Choosing a neutral color scheme and adding reflective surfaces in your bathroom can also make the room feel bigger. If you want to make a more dramatic change, consider replacing old tiles and flooring with white tile to give the room a fresh feel. Depending on the extent of your remodeling project, you may want to consider replacing a bulky bathtub with a glass shower to open up the space. A full renovation can leave your small bathroom feeling more like an airy spa by combining smart lighting and color selections with updated furniture and fixture choices.
Create a Functional Space
If your old bathroom lacks adequate storage space, the renovation experts at Baich Construction can work with you to create customized storage solutions that ensure you are maximizing your bathroom storage space without sacrificing style or comfort. Adding wall-mounted cabinets or shelving can be a great way to make use of vertical space that may otherwise go wasted in your bathroom. Installing pocket doors is also a great way to leave space available in your bathroom for shelving or hooks. If you are looking for a major change, upgrading to a new vanity can add both modern style and improved function to your bathroom. Whatever your storage requirements, the professionals at Baich Contruction will work with you to come up with custom solutions to fit the needs of your household.
Add Value
Even if your older Western New York bathroom meets your general space and storage needs, you may want to consider making some upgrades to add instant value to your home. Whether you have plans to sell soon or just want to be prepared for the future, it could be a good idea to keep your bathroom updated and appealing. Home buyers tend to consider the bathroom very carefully when shopping for their new dream home. Simple changes such as replacing older light fixtures or faucets can make a dated bathroom more marketable if you have plans to sell soon. Larger projects such as replacing an old bathtub with a new garden tub and separate walk-in shower also add value and appeal to buyers. A complete bathroom remodel can add lots of value and appeal to your home and make it more likely to sell if you decide to list it. If you want to add value to your Western New York home, consult with the bathroom remodeling contractors at Baich Construction today to get ideas about how to update your bathroom.
If you are looking for a professional Western New York Remodeling Contractor, then please call Baich Construction or complete our online request form.